Gardening Community
Garden Savvy's social media platform is built exclusively for gardeners and makes it possible to join a gardening community that connects like-minded gardeners
Sign Up For Free
Gardening social media
A Social Media Platform Exclusively for Gardeners
Garden Savvy's gardening social media platform offers novice to expert gardeners exclusively garden related content 100% of the time.
TAKE ME THERE!
Community features
Other social media platforms are cluttered with irrelevant ads, unwanted content and algorithms that think they know what you want to see. Our gardening community is 100% gardening 100% of the time. Share your garden's progress or post questions for feedback from fellow gardeners.
LET ME SEE IT
Our gardening community features include:
Exclusively garden-related content
Connect with gardeners from around the world
Post photos and status updates
Include hashtags to find other fellow gardeners
Join groups based on your interests
Share your Hortisketch designs
Follow your favorite gardening suppliers and influencers
Sign Up for free now
Connect with gardeners
Create an account and get social!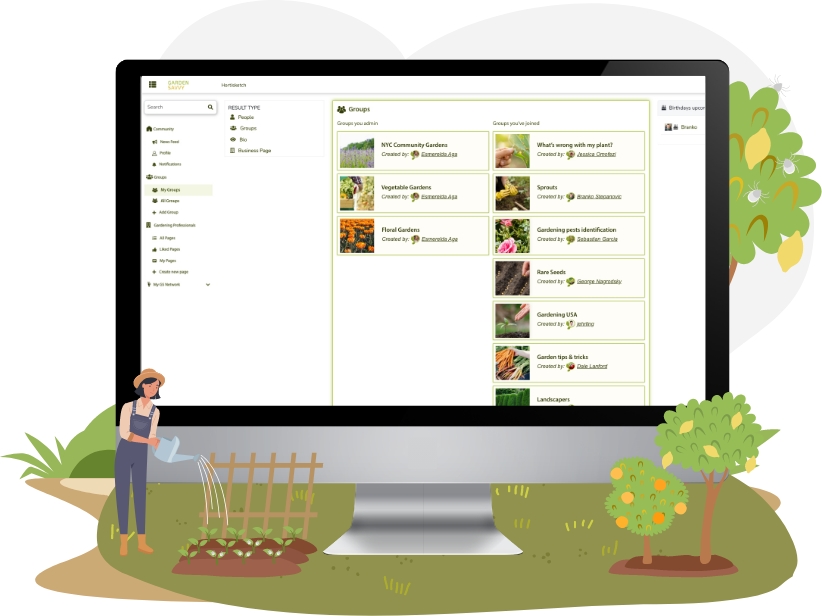 Groups function similarly to other social media groups. Join a group by searching for your personal gardening interests. If there is not a group, create one yourself! Connect with gardeners who share the same passions for niche plants like bonsai trees and exotics to rose gardeners and heirlooms.
Sign Up
Need gardening advice? Ask questions in gardening groups to learn from your peers. If you're gardening in the city and want to learn from other city gardeners, join a group for city gardeners!
The Garden Savvy Community is linked with your Hortisketch Garden Planner. Share your garden designs with friends!
LET ME SEE IT
Gardening Professionals
Garden Savvy's Community helps you connect with gardeners who share the same passion as you.
Find your favorite suppliers and gardening influencers. Keep up to date with their discounts, content, and seasonal horticulture reminders.
If you are a business owner, our gardening community platform is an easy way to connect with your target customers. Post your discounts or upload images of your new inventory. Use hashtags to help customers find you. Connect with your customers today!